Fire Weather Information: Red Flag Warnings
"Residents and visitors to areas where wildfires are likely to occur should be aware of current and predicted weather conditions, and take additional ACTIONS TO PREPARE THEIR FAMILY, HOME, AND COMMUNITY when risk is elevated."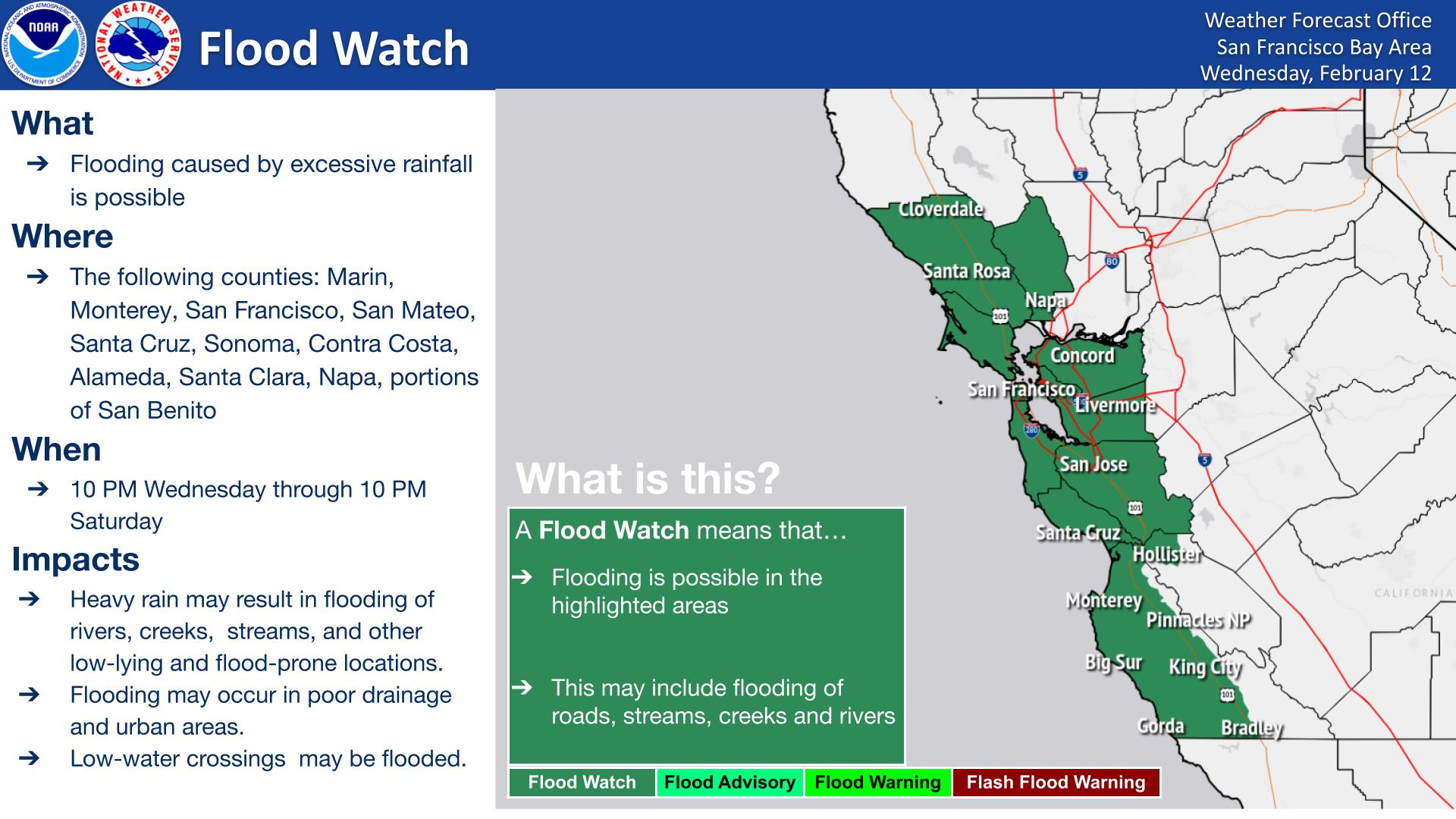 CURRENT RED FLAG WARNINGS AND FIRE WEATHER INFORMATION
All Marin NWS Watches, Warnings, and Advisories
Critical Fire Weather - Graphical Forecast
Weather and climate play major roles in the development and spread of wildfires. Of the three major components making up a fire's environment (Fuel, Weather, and Topography), weather is the most important, and it is continuously changing. Weather elements that play the largest role in wildfires are:
Wind
Relative Humidity/Atmospheric Moisture
Temperature
In addition drought, a result of certain weather conditions and climate, must be considered.
Weather conditions that contribute to wildfires can be measured and predicted. Fire agencies monitor weather conditions daily and use indexes and predictions to make decisions about how to fight fires (how many fire engines, aircraft, and firefighters may be needed if a new fire occurs), how to prevent new fires from igniting (land closures, land use restrictions, and power shutdowns). Residents and visitors to areas where wildfires are likely to occur should be aware of current and predicted weather conditions, and take additional actions to prepare their family, home, and community when risk is elevated.
What is a Red Flag Warning?
Fire Weather Watches and Red Flag Warnings are issued by the National Weather Service to notify the public and fire agencies in advance of critical weather patterns that may contribute to extreme fire danger and/or extreme fire behavior. A Red Flag Warning is issued for weather events which may contribute to extreme fire behavior and that will occur within 24 hours (or when these conditions are currently being observed). A Fire Weather Watch is issued when weather conditions could exist in the next 12-72 hours. A Red Flag Warning is the highest alert. During these times extreme caution is urged by all residents, because fires are more likely to ignite, and those that do are more likely to spread rapidly and be more difficult to control. A Fire Weather Watch is issued when fire danger is high or when Red Flag Warming conditions are predicted, but not yet observed.
When a Red Flag warning is issued, the Marin County Fire Department notifies public land owners who determine if land use restrictions will go into effect. These restrictions may include temporary road closures or suspension of special use permits. For information on Red Flag Land Use Restrictions, call public lands before visiting or call the Marin County Fire Department public information line at (415) 499-7191.
Red Flag Warning conditions are typically related to wind events lasting at least 8 hours when: vegetation is already dry; annual grasses are cured; no rain has occurred in the last 24 hours; and "10-hour" fuels (dead vegetation 1/4 to 1/2 inch in diameter) have less than 6% moisture. Relative humidity and wind speed are the primary factors driving a Red Flag Warning declaration, and must fall into one of the following parameters:
| Relative Humidity | Wind Speed |
| --- | --- |
| Day, 29-42% and/or Night, 60-80% | 30+ mph |
| Day,19-28% and/or Night, 46-60% | 21+ mph |
| Day, 9-18% and/or Night, 31-45% | 12+ mph |
| Day, <9% and/or Night, <31% | 6+ mph |
Note that temperature is not a major factor in determining fire danger - hot days do not trigger a Red Flag Warning unless low humidities and/or sustained, dry winds are also present.
Red Flag Warnings and Fire Weather Watches remain in effect through the expiration time noted in the forecast, or until canceled or upgraded.
Red Flag Warnings and Fire Weather Watches are posted on the California Fire Weather web page and the website of the San Francisco Bay Area National Weather Service (NWS) office. Links to all fire weather planning forecasts, and other NWS office web pages can be found on the National Fire Weather Page, including the forecast for the San Francisco Bay Area.
Public Land Closures
Marin County Open Space Lands and Watershed Lands May Be Closed (call to confirm)
MMWD
MMWD's Mt. Tamalpais watershed lands are closed to public motor vehicle traffic on Sky Oaks Road beyond the Sky Oaks Ranger Station.
All watershed land use permits have been suspended.
Natalie Coffin Greene Park is closed to vehicle traffic.
For additional MMWD information, please call (415) 945-1195
Marin County Parks and Open Space
All Marin County Parks events on open space land cancelled for duration of a Red Flag warning.
What should I do during a Red Flag Warning?
Be prepared, and avoid activities that could spark a wildfire.
Personal Preparedness during a Red Flag Warning:
Review your Wildfire Evacuation Checklist
Prepare your home by enhancing your defensible space, and especially cleaning leaves from roofs, gutters, and around the base of walls.
Ensure your car has a full tank or fuel (or a full charge if electric!).
Ensure your cell phone is charged, and monitor phones for emergency alerts.
Keep hydrated - it's usually warm and dry!
Activities to avoid during a Red Flag Warning
Don't use barbecues or fire-pits outdoors (especially charcoal or wood models, but also gas or propane)
Don't use an source of heat or open flame outdoors, including cooking, power tools (gas or electric), mowers.
Don't smoke outdoors
Avoid driving or parking in dry grass or vegetation
Avoid closed areas and be alert while visiting (open) public lands where wildfires might occur.
Diablo Winds
"Diablo wind" is the name that describes the hot, dry winds from the northeast that sometimes occur in the San Francisco Bay Area of Northern California, especially during the spring and fall. The same wind pattern also affects other parts of California's coastal ranges. The term first appeared shortly after the 1991 Oakland firestorm, perhaps to distinguish it from the comparable, and more familiar, hot dry wind in Southern California known as the Santa Ana winds. In fact, in decades previous to the 1991 fire, the term "Santa Ana" was occasionally used as well for the Bay Area dry northeasterly wind, such as the one that was associated with the 1923 fires in Marin, Sonoma, Napa, and Berkeley. The scientific term for this patterns is "Foehn winds."
The name "Diablo wind" refers to the fact that the wind blows into the inner Bay Area from the direction of Mount Diablo in Contra Costa County, and is mindful of the fiery, romantic connotation inherent in the term that translates to "devil wind". The Diablo wind is created by the combination of strong inland high pressure at the surface, strongly sinking air aloft, and lower pressure off the California coast. The air descending from aloft as well as from the Coast Ranges compresses as it sinks to sea level where it can warm as much as 20 °F (11 °C), and loses relative humidity.
Because of the elevation of the coastal ranges in north-central California, the thermodynamic structure that occurs with the Diablo wind pattern favors the development of strong ridge-top and lee-side downslope winds associated with a phenomenon called the "hydraulic jump". While hydraulic jumps can occur with Santa Ana winds, the same thermodynamic structure that occurs with them typically favors "gap" flow more frequently. Thus, Santa Anas are strongest in canyons, whereas a Diablo wind is first noted and blows strongest atop and on the western slopes of the various mountain peaks and ridges around the Bay Area, although channeling by canyons is also significant.
In both cases, as the air sinks, it heats up by compression and its relative humidity drops. This warming is in addition to, and usually greater than, any contact heating that occurs as the air stream crosses the Central Valley and the Diablo Valley. This is the reverse of the normal summertime weather pattern in which an area of low pressure (called the California Thermal Low) rather than high pressure lies east of the Bay Area, drawing in cooler, more humid air from the ocean. The dry offshore wind, already strong because of the offshore pressure gradient, can become quite strong with gusts reaching speeds of 40 miles per hour (64 km/h) or higher, particularly along and in the lee of the ridges of the Coast Range. This effect is especially dangerous with respect to wildfires as it can enhance the updraft generated by the heat in such fires.
While the Diablo wind pattern occurs in both the spring and fall, it is most dangerous in the fall, when vegetation is at its driest.
Fire Danger Ratings
Fire danger ratings are measurements of weather and fuel conditions that help fire agencies predict how likely a fire may ignite, and how intensely and quickly it may burn. These ratings are determined daily during fire season by local fire agencies based on the National Fire Danger Rating System (NFDRS). These ratings are based on the probability of ignition; the effects of wind, slope and fuel; and the potential energy released by a fire in the given weather and fuels. A daily rating ranging from Low to Extreme fire danger is determined based on the worst case fire weather scenario during the hottest, driest part of the day on an open, south-facing slope.
Fire danger ratings may vary throughout the county and are used to determine whether land use restrictions will go into effect as well as how many firefighters should be available in case a wildfire does occur. Fire Danger Ratings describe the potential for fire to ignite and spread rapidly in a local area. Red Flag Warnings are a weather forecast used to predict a weather event in which fire will be difficult to control.